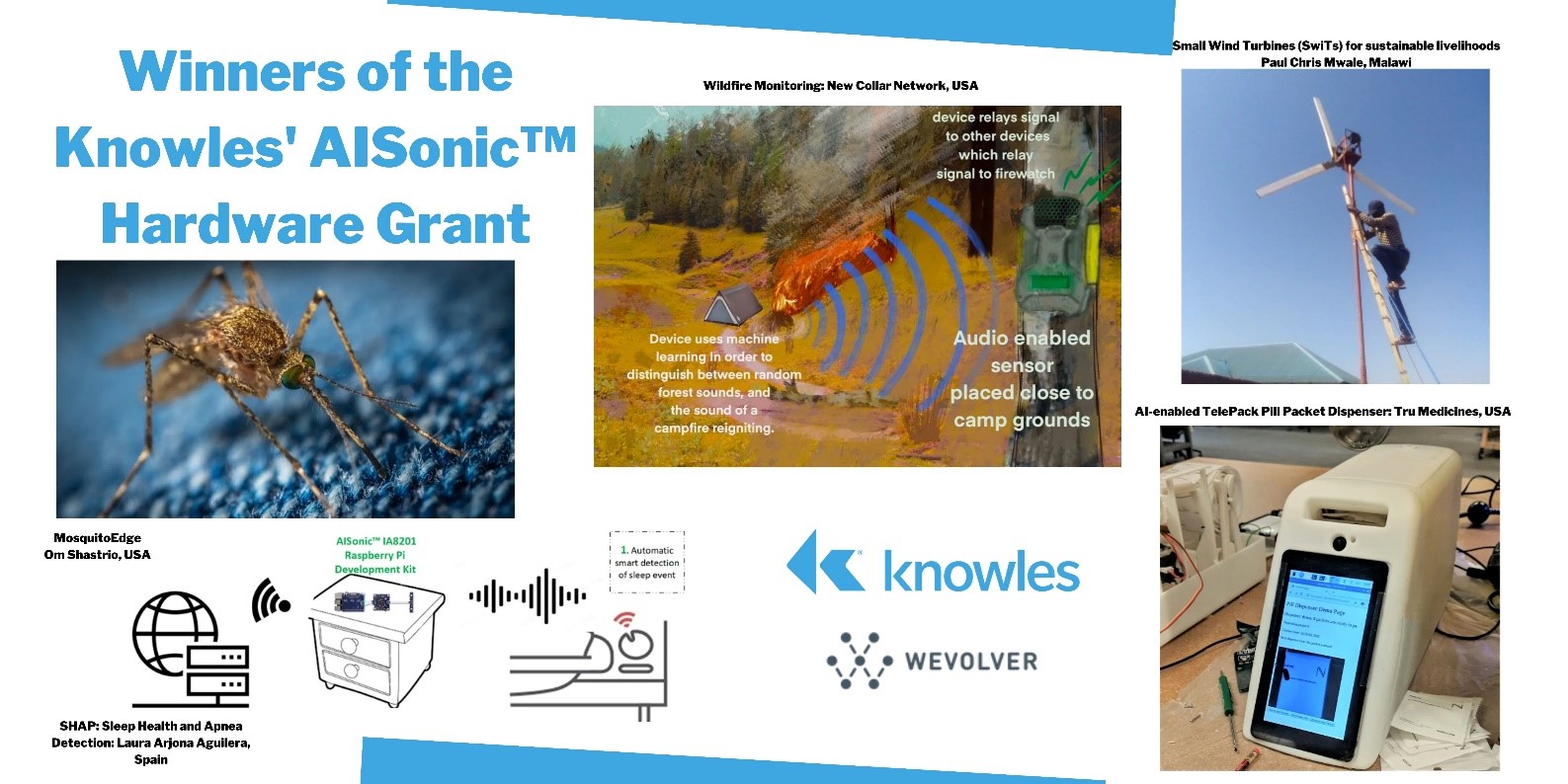 Knowles and Wevolver Announce the Winners of the Knowles AISonic™ Hardware Grant
January 7, 2022

Five winners awarded development kits to implement their inventions – from sustainable wind power and wildfire monitoring to solving sleep apnea and fighting mosquito-born illnesses – the winners push the boundaries of voice and audio integration across a variety of industries.
We recently teamed up with Wevolver to launch a competition and hardware grant that would highlight the many varied use cases for our Knowles AISonic™ IA8201 Raspberry Pi Development Kit, an all-in-one package that brings voice, audio edge processing, and machine learning (ML) listening capabilities to devices and systems for a range of new applications. Product designers and engineers now have a single tool to streamline the design, development, and testing voice and audio technology in their respective industries.
Our AISonic™ Hardware Grant asked the development community how they would use the AISonic™ kit to solve an engineering problem. Wevolver received a huge number of high-quality submissions from around the world. Ideas ranged from applications in personal robots to smart greenhouses. Together with judges, Anu Adeboje: Marketing Specialist at Sensory; Joan Palmiter Bajorek: CEO and founder, Women In Voice; YC Wang: Director of the Global Academic Program at Digi-Key Electronics; Richard Nass: Executive Vice-President, Brand Director, Embedded Franchise, OpenSystems Media; and our own Vikram Shrivastava: Sr. Director of IoT Marketing, Knowles Corporation, we chose five winners doing incredible things with our kit.
The winners of the AISonic™ Hardware Grant are:
Small Wind Turbines (SwiTs) for sustainable livelihoods: Paul Chris Mwale, Malawi
Project description: We build low-cost small wind turbines from locally available materials like timber, scrap metals, and junk electronics. Malawi has one of the lowest electrification rates in the world, approximately only 12% of the 19 million Malawians have access to the grid. We have the goal of making clean energy access universal. We are a team of passionate college students with a dream.
MosquitoEdge: Om Shastrio, USA
Project description: Species distribution models (SDMs) that use climate variables to make binary predictions are effective tools for niche prediction in current and future climate scenarios. In this study, a Hutchinson hypervolume is defined with temperature, humidity, air pressure, precipitation, and cloud cover climate vectors collected from the National Oceanic and Atmospheric Administration (NOAA) that was matched to mosquito presence and absence points extracted from NASA's citizen science platform called GLOBE Observer and the National Ecological Observatory Network.
An 86% accurate Random Forest model that operates on binary classification was created to predict mosquito threat. Given a location and date input, the model produces a threat level based on the number of decision trees that vote for a presence label. The feature importance chart and regression show a positive, linear correlation between humidity and mosquito threat and between temperature and mosquito threat below a threshold of 28°C. In accordance with the statistical analysis and ecological wisdom, high threat clusters in warm, humid regions and low threat clusters in cold, dry regions were found. With the model running on the cloud and within ArcGIS Dashboard, accurate and granular real-time threat level predictions can be made at any latitude and longitude.
A device leveraging GPS smartphone technology and the IoT to collect and analyze data on the edge was developed. The data from the edge device is automatically inputted into the Random Forest model to provide users with a real-time threat level prediction. This inexpensive hardware can be leveraged in developing countries that are threatened by vector-borne diseases or in remote areas without cloud connectivity. Such hardware devices that collect useful climate data at different locations can be linked with citizen science mosquito data platforms to build training datasets for machine learning-based SDMs.
SHAP: Sleep Health and Apnea Detection: Laura Arjona Aguilera, Spain
Project description: I am highly motivated to contribute to the diagnosis of sleep apneas and other sleep events with the AISonic™ IA8201 Raspberry Pi Development Kit. Sleep apnea is a common medical disorder that occurs when breathing is disrupted during sleep which is linked to attention-deficit/hyperactivity disorder, high blood pressure, diabetes, heart attack, stroke, and increased motor vehicle accidents. Diagnosing in the clinic requires the polysomnography test which is an expensive, time-consuming, and labor-intensive process. Moreover, people who sleep alone can take a very long time until they notice. Inspired by the work "Contactless Sleep Apnea Detection on Smartphones" of 2015 from my colleagues at the University of Washington, I want to take this project a step further and build a robust diagnosis and preventive wireless platform, for sleep apneas, and other sleep-related events.
Wildfire Monitoring: New Collar Network, USA
Wildfires are becoming more prevalent in our ever-changing environment. As the year's progress, the wildfire count in the United States grows exponentially. According to the National Interagency Fire Center as of November 2021, there have been 52,729 wildfire incidents and 6,631,430 acres that have been burned. At New Collar Network, our concept for utilizing the AISonic™ IA8201 would be to use its hardware and machine learning for fire ignition, reignition (such as a camper not properly putting out their fire), and arcing from power lines to indicate a possible fire risk. Each product would have the capability of communication with another similar product to further enhance wildfire awareness. Early detection could save even more acres of forest lands and give greater opportunity for safer exiting of communities; also decrease Firefighter response times with more accurate detail of the location.
With the small footprint of the development kit, it can be easy to turn into a product since we can 3D print a case with a strap to make it easy to attach to a tree trunk. We can also print other styles of cases. A case with a magnet would be applicable on metal surfaces. The noise that's picked up with the IA8201 processor would communicate with other products in the field if not synchronized with a field camera or none is available.
With the low power always-on processing of sensor units of the IA8201, solar power with a power reserve could be an option. We are hoping to have a small product footprint as well to not detract from the nature of a beautiful forest but still noticeable for forestry personnel to service the product. We would initially start with emergency personnel or park rangers to prove how well the product and hardware would fare in outdoor conditions. Eventually, there would be a civilian version for people who live in arid fire-prone regions; and a camp version for campers to always know where the nearest wildfire is in relation to their site, to give advanced warning, or to even monitor the campsite.
AI-enabled TelePack Pill Packet Dispenser: Tru Medicines, USA
Project description: Our Ai-enabled TelePack Pill Packet Dispenser uses image and speech recognition to identify pill-packet contents and respond to spoken requests (Alexa). Our dispenser uses pre-packaged medications and vitamins from online pharmacies: Amazon PillPack, CVS, Walmart, Walgreens, Nurish, Persona. Our One-Touch Video call feature (zoom) is a dedicated Video conferencing device that allows people to receive remote care and medication monitoring at the lowest cost to under-serviced populations.
Our Web Portal admin dashboard provides quick real-time monitoring of 50+ remote dispensing units, with One-Touch Video Calling. Our conversational Avatar Assistant provides a friendly voice interactive conversation asking and answering questions while dispensing medications. Personalized Avatars can log spoken "key" words such as headache, pain, nausea, anger, and sadness, etc.
Each of the winners will receive the development kit from Knowles to implement their idea.
Winners originally announced on Wevolver.com: https://www.wevolver.com/article/solving-sleep-apnea-sustainable-wind-power-and-wildfire-monitoring-the-winners-of-the-knowles-aisonic-hardware-grant/
At Knowles, we strive to continuously reinvent our industry, and develop technology that improves the audio experience. Today, Knowles products are used by more than one billion people worldwide every day, enhancing how they interact with the world around them. Headquartered in Itasca, Illinois, Knowles has employees across 11 countries, including more than 800 engineers dedicated to pioneering acoustics and audio technology. This R&D investment, coupled with our state-of-the-art manufacturing facilities around the world, enable us to deliver advanced MEMS microphones, balanced armature speakers, voice processing and algorithms, and precision device solutions.